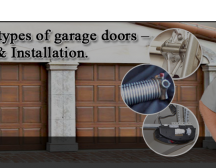 Need immediate help? Call us now for garage door repair from one of our experts. We have many years of experience repairing any garage door and opener problem, from repairing old parts and replacing them to installing new ones. Do you want to save money on garage door repair? Call us now! We are the most affordable garage door company in the area, with a strong commitment to your satisfaction.
Garage Door installs
Before we come by to install the garage door you, we ask that you take into consideration a few issues such as the garage door opener and whether or not you have room for an garage door installation table.
You're probably thinking about where we want to park and how long it will take us to carry all our gear into your garage. We understand that you have these concerns, and that is why we've outlined them in this form so both parties can be prepared for the big day.
Does your car or motorcycle need a tow, but you can't get it out of the garage by yourself? Or are you working on a delicate construction project in your garage space that might be damaged while workers come over to install the entry door? You don't have to leave your prized motorcycle outside your garage, where it will surely be mistaken for the vehicle of somebody who isn't as cool.
As soon as we arrive to install your garage door at your house, we will quickly move any equipment that could potentially be damaged. And while we have no problem helping you move your things after, we kindly ask that they be removed from the space before we get there. The more time we have to spend setting up for the garage door installation, the longer the installation process will take.
GARAGE DOOR INSTALLATION PROCESS
It doesn't matter whether there are any unforeseen circumstances. It shouldn't take us long getting your garage door over to your home and into proper working order. We ask that our customers are present for the final steps of the project, both to witness the care we put into each one and to learn how to operate their garage door opener properly.
After we install your garage door, we will give you a guide on how to operate and maintain the device. We can help you fix any issues that may arise with your garage door or answer any questions that you might have. We take the pride and joy of our work very seriously, so we want to make sure you are satisfied with the final product.
We value your business. Therefore, we will personally train you and walk you through the manual after our installation. This way, you will be able to avoid unnecessary issues that may arise. You can always count on us to help you with any problems or questions you may have regarding your garage door.
We are extremely dedicated. Our experts will come to your home after the installation and teach you how to operate and maintain your new garage door. When you're satisfied, we're satisfied.